---
The Middle Tennessee Choral Society was organized in 1969 to present choral music of the highest caliber. After becoming a chartered nonprofit in 1984, the group's purpose was broadened to include education under new music Director/Conductor Raphael Bundage and General Manager Kay Garrison. The 100-voice MTSU Concert Chorale joined the Choral Society for its 1985 concert season. Since then, choirs from elementary through high school have periodically performed with the Society to gain music understanding in settings they might otherwise not experience.
The Choral Society has brought many fine performers to the Murfreesboro stage, including James Earl Jones for Copeland's Lincoln Portrait, as well as international soprano Christine Brewer for Beethoven's Missa Solemnis. The Choral Society has traveled throughout the United States and Europe, including two invitations to perform at Carnegie Hall. European tours have included concerts in Austria, England, France, Italy and Scandinavia.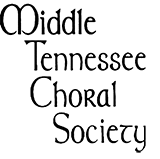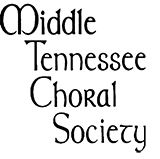 Since 1996 the Choral Society has sponsored the National Orpheus Vocal Competition to provide financial support and encouragement to outstanding singers ages 19 to 30 pursuing careers in the vocal arts. The increasingly prestigious Orpheus Competition is the only competition of its kind in the south central US. The Choral Society awards grand prizes of $5,000 to the Young Artist Award winner and $3,000 for the Student winner. Other privately sponsored awards are given ranging from $300-$2,500.
---